Check Out Buffalobills.com for an article on the Bills Brothers
(pub. 10/24/13) at:
Click on this link to see Bills Brother Tony interviewed during Bills Training Camp 2012!!
Click this link for a story about Bills Fans
click here to play cbs commercial incl. the bills brothers
The Bills Brothers would like to Thank the Buffalo Bills, M&T Bank, and Crowley Webb & Associates for involving us in their 2008 ad campaign!!!
Thanks, you were all very professional and we all had fun!!!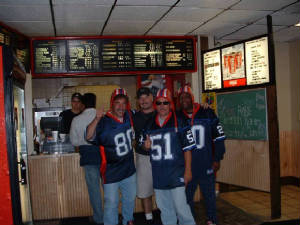 For great food after the game we love John and Mary's (Transit Road)
If in the Capital Region on game day Ed (a local) says check out the Bills Backers bar at McGeareys right in downtown Albany